Diagnostics dialog
The following diagnostic options are provided:
Enhanced log level: Configuration and log files are retrieved to a greater extent
Additional diagnostics by creating screenshots or adding further freely selectable files
Display or send relevant files to FTP server,

Scout Server

or data medium
Ping command to check connectivity and latency in your network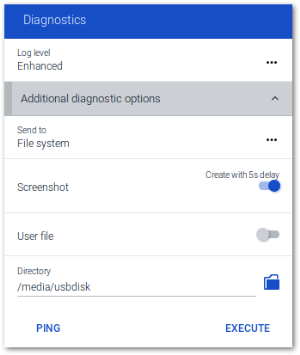 Option
Description
Log level
Choose between

Standard

and

Enhanced

for different amounts of configuration and log files.

Use the Enhanced log level only temporarily, otherwise you risk exceeding the flash memory capacity of your device.

Send to
Configure the destination: Where do you want to send the files?

Display
Opens the Log Viewer window in eLux showing various diagnostic files with their contents
FTP address
The files are transferred to an FTP server
Specify the address under

FTP address

.

Scout Server

By default, the files are transferred to the

Scout Server

,
to

%USERPROFILE%

\Documents\UniCon\Scout\Console\Diag

A different destination server may be configured in the Scout Console.

File system
The files are saved to a local data medium or USB device.
The following options are only visible after you have chosen a destination (except Display):
Screenshot (only if destination ≠

Display

)
After you click

Execute

, with a 5 second delay, a screenshot is taken and transmitted with the diagnostic files. Screenshots are created as

.png

files under

/tmp

.
User file (only if destination ≠

Display

)
Users can select a local file to be transmitted with the diagnostic files.
Directory / server address (only if destination ≠

Display

))
File system directory or server address (

Scout Server

or FTP-Server) for transmission of the diagnostic files
Ping
Allows users to ping any host (IP address or FQDN)1
Execute
Displays or sends the selected amount of diagnostic files to the configured destination
If the destination is not Display, the diagnostic files are organized in directories such as setup, var, tmp and sent in a .zip file.
The systemd-journal.log (Enhanced log level) logs network activities.2 for eLux RP 6.4 and later versions