Parent applications
By default, applications are inherited to subordinate OUs. This allows you to define applications in only few but central places.
For the subordinate OUs, in the tree view, on the Applications context menu, the option Use parent applications > All is enabled (check mark). With the check mark set, all applications are active that have been defined for higher-level OUs or for the top-level OU. In addition to these applications, you can define more applications valid for this individual OU (and subordinate OUs).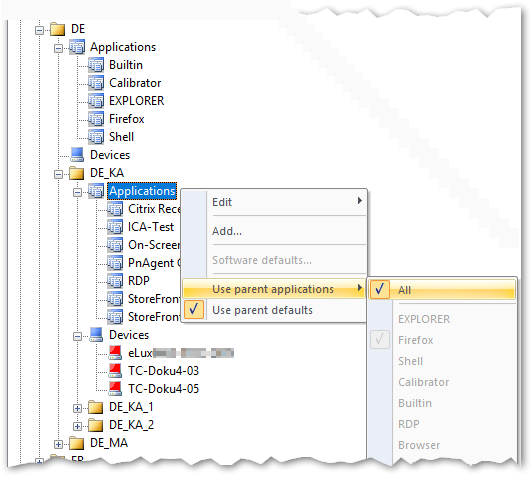 Disabling inheritance of applications
For an OU that you do not want to receive higher-level applications, open the context menu.
Click

Use parent applications > All

to remove the check mark.
The OU cannot use higher-level applications and cannot inherit them to subordinate OUs any-longer. Only applications defined within that OU are active.
Inheriting only individual applications
For the OU that you want to receive some of the applications defined for a higher-level OU or at top-level, open the context menu.
Make sure that the option

Use parent applications > All

is cleared (no check mark).
On the sub-menu

Use parent applications

, under

All

, select the application you want to inherit from above.
The selected application, on the sub-menu, receives a check mark, and its definition is provided on the next device restart for that OU.
Inherited properties of the selected applications will be lost if you move the respective OU to another parent OU. For moved OUs, the system automatically enables Use parent applications > All.1 from Scout 15 2101
Show defined applications for an OU
Click

View > Window > OU devices/applications

to display the relevant window.
In the tree view, click the

Applications

icon below an OU.
For the selected OU, all defined applications are listed. The Origin column shows the OU from which an application is inherited. Top-level applications show the value Enterprise.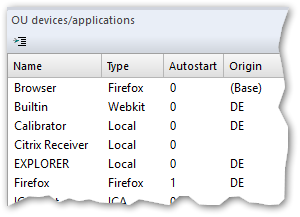 The selected OU of the figure above has one own application (no entry in the Origin column), four applications from the higher-level OU DE, and one top-level application.
To also apply the default settings of the parent applications, on the Applications context menu, select the Use parent defaults option. For further information, see Software defaults.