Special form of Dynamic Client Groups by import
To create a Dynamic Client Group, instead of using the Scout Report Generator, you can use the Import feature of the Scout Console and make up a device group based on a device list containing MAC addresses. The advantage is that you are completely free to select any devices you want. They only have to be registered in Scout. Note that the Import feature here is not used to import devices.
Creating Dynamic Client Groups by import
Requires 

The relevant devices must be listed with their MAC addresses in a .csv file. Each line must begin with a MAC address. The lines may contain further information but only the MAC address is evaluated.
In the Scout Console, click File > Import > Devices....

In the Import devices dialog, in the bottom section, select the Create Dynamic Client Group option.

All options related to the device import are disabled.

Click Select file... and select the relevant .csv file from the file system.

Click

Create

.
The .csv file is evaluated. Scout creates a new Dynamic Client Group. It contains all devices of the csv list whose MAC address is registered in Scout. The dynamic device group adopts the name of the .csv file.
Displaying Dynamic Client Groups
In the

Scout Console

, click

View > Window > Dynamic Client Groups...

.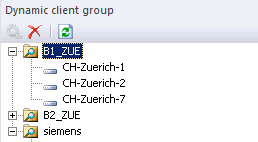 The Dynamic Client Groups window is displayed. The Dynamic Client Groups can be expanded to show the matching devices.
Dynamic Client Groups that have been created via the import feature cannot be updated with the

Re-create button. To update the Dynamic Client Group, after having modified the device list, save the *.csv file under the same name and perform a new import as described above.
For a selected Dynamic Client Group, the Properties window shows some information such as the Creation date and Number of devices. The Filter field shows the entry created by device import.
Applying commands and notifications to Dynamic Client Groups
1.  In the Dynamic Client Groups window, select the relevant Dynamic Client Group. Check the information shown in the Properies window.
2.  Open the context menu of the Dynamic Client Group and select a command or notification.
Commands and notifications are applied to the matching devices, irrespective of their OU. The available commands can also be scheduled for later execution.