Interface
The ELIAS application window is divided into the Image section on the left and the Container section on the right.
To view the available packages on the container, select the relevant software container from your web server or FTP server.
To view an existing image definition file (IDF), open the relevant

.idf

file from the selected container. If you create a new image definition file, you start with an empty list in the left section.
With both lists in front of you, you can easily define your image, adding software packages from the container, and if required, removing packages from the IDF.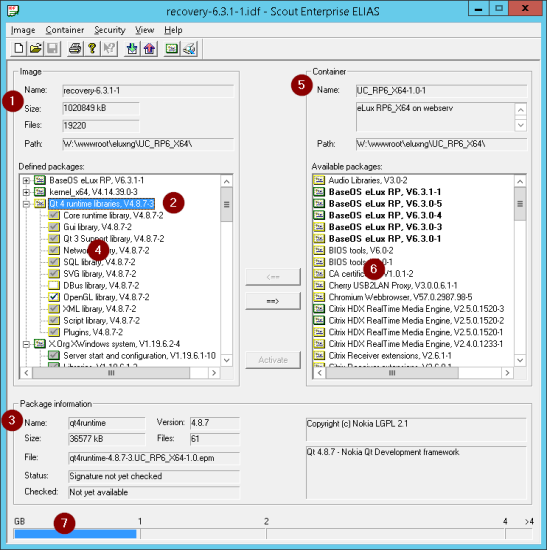 Legend to numbers
1
Image definition file (

.idf

) with name, total size of all packages selected so far, number of defined files and storage location

The current image size is graphically represented on a status bar on the bottom of the window (7).

2
Software package defined in the IDF (eLux package module,

.epm

)
3
Details for the selected software package (selected in either the left or the right list):

Name, version, size, number of included files, signature status, signature proof date as well as the copyright information and the description of the selected feature or package

4
Subordinate features of the software package (feature package module,

.fpm

)
5
Selected software container with name, description and storage location
6
Software packages provided in the software container (

.epm

)
7
Image size based on currently selected software packages