Container Explorer
– from ELIAS 18 2104 –
Requires 

ELIAS access right with global access (Global admin)
In the Package library, all packages of a container are displayed. To view all files of a container in list form, the Container Explorer is provided. eLux software packages (.epm), their child features (.fpm), archive files, signature files, recovery system files and .dd files are displayed.
The Container Explorer allows downloading files that are not part of a package. Export of all packages of a container can be done from the Package library, export of an image from the Image library. In the Container Explorer, the administrator now has the option to download other files such as archive files.
For the download, a .zip file is created with the selected files, which you can download via the browser function.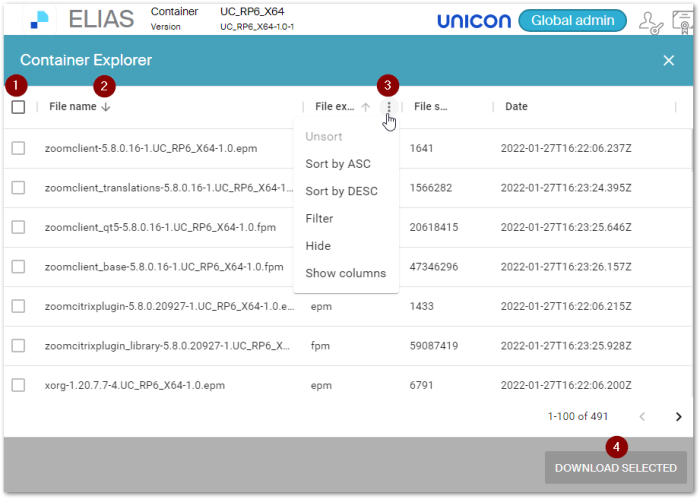 1
Select all files
2
Sort by file name

Sorting can be done for any column.

3
For each column, sorting and filtering functions are available.
4
Download selected files

For security reasons, .epm, .fpm and .sig files cannot be downloaded.
Files for UEFI updates
To perform UEFI updates in the same way as firmware updates, import the required UEFI file (.udf) and UEFI firmware archives (.bin, .bup, .cab) into your container. These files are only shown in the Container Explorer.1 from ELIAS 18-2201 For further information, see UEFI update in analogy to firmware update in the BIOS update guide.