Display of devices
In Scout Board, the devices are displayed in the form of a list in all views. You can sort, filter and search a device list by any field. If possible, limit the scope of the displayed devices already in the first step by selecting the view:
All devices
In the Navigation Panel, choose Devices > All devices.
All devices of your Scout infrastructure are displayed as a list.
Devices of a specific OU
In the Navigation Panel, choose Devices > OU structure.

Expand higher level OUs until you can see the relevant OU. To do this, click in front of an OU name.

Click the OU.
All devices of the selected OU are displayed. The device list of an OU has two tabs: One for the devices themselves and next to it all schedules of this OU.
Dynamic Device Groups
In the Navigation Panel, choose Devices > Dynamic Device Groups.

Click one of the defined Dynamic Device Groups.
All devices matching the filter criteria of the Dynamic Device Group are displayed.
Device list functions
The same basic functions for a device list are available in all views.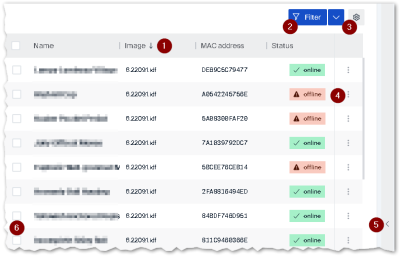 1
Some of the available fields are displayed as columns. Select more fields and the sequence using the

List settings

.
2
Sort by a field
3
Open the

Actions

context-menu of a device
4
Show details of selected device, OU or Dynamic Device Group on the right
In upcoming versions, multiple devices can be selected via the selection bar. In the Technical Preview, only one device can be selected.
Changing List settings
Specify which fields are displayed in the device list and in what order.
On the right, above the device list, click .

All available fields are displayed in a list-field with scroll bar. The fields currently shown in the device list can be found at the top and are selected.

Use the scroll bar or search to view more fields in the list-field

To select specific fields for display, check the fields. To select all fields, click the icon in front of Select all.

To change the sequence, point to the left of a field name to . Drag the field to the desired position within the list-field.

Confirm with Save.
| | |
| --- | --- |
| 1 | Open list settings |
| 2 | Search for a field |
| 3 | Select a field to be displayed as a column |
| 4 | Drag a field to a new position (Sequence of columns) |
If not all configured fields can be shown in the device list due to space constraints, a horizontal scroll bar will be displayed.