VMware Horizon
Add a new application (see Adding applications) and select the application type Virtual Desktop (only Console).

Under VD broker, select VMware View.

Edit the relevant fields.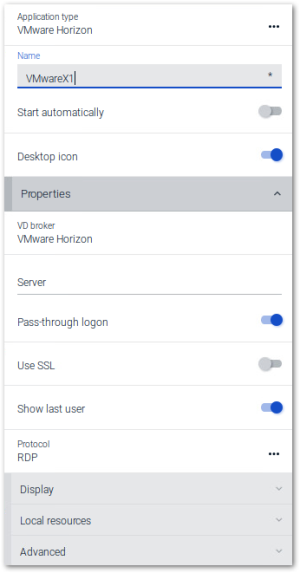 Option
Description
Name

Name for the application

Auto-start
The application starts automatically after eLux has been started.
Desktop icon
Provides a desktop shortcut on your personal desktop
VD broker
VMware Horizon
Server
IP address or name of the server

Pass-through logon

The user is logged on via single sign-on. The AD user credentials are used.
Username, Password, Domain
The user is automatically logged on to the server by using the specified credentials.
Use SSL
Forces the connection via HTTPS

Note that HTTPS connections require the relevant SSL certificates on the device.

Show last user
The user credentials (except for password) of the last logon are displayed in the logon dialog
Protocol
Choose between the following protocols:


RDP




PCoIP




VMware Blast

1
For information on Display, Local resources and Advanced settings, see Advanced application settings.
You can configure the VMware Horizon client by using the application definition in the Scout Console or locally on the . To set additional parameters that are not included in the interface, use a configuration file:
With the help of VMware documentation,2 create the file

view-userpreferences

. Transfer the file via the

Scout

feature Files configured for transfer to the s to

/setup/elux/.vmware/view-userpreferences
The configuration on the Scout or eLux interface has precedence over the configuration file and will overwrite values of the configuration file.