Image as a USB recovery system
For all current eLux versions we offer a ready-to-use eLux USB stick image for download on our technical portal. Alternatively, you have the option to use an individual firmware image as a basis for your USB recovery stick.
For a USB recovery stick to be bootable for eLux, it must contain the recovery system of the relevant eLux version. For an individual image, the relevant image file and all software packages defined in it are also required. The current recovery system is installed as a .dd file with the ELIAS 18 installation.1 from ELIAS 18 2104 Example: eLuxRP-6.2103.0-5-ELIAS.dd. The .dd file is located in the ELIAS program directory.
The .dd file is not shown in the Container Explorer.
For each eLux version, Unicon additionally provides the recovery system on the technical portal.2 ab eLux RP 6 2103 To provide an existing ELIAS 18 container with an up-to-date recovery system, download the recovery system (example: ELIAS USB Recovery system 6.2204.0-10) from our technical portal and import it into your ELIAS 18 container.
Imported recovery systems are displayed with their version in the Info dialog: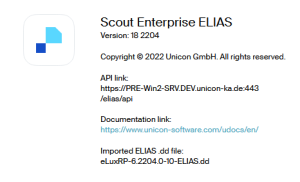 When you export an image with the Stickwizz option, all the data you need is written to a .stw file, which you then download via your browser and save on a Windows PC. With the help of the StickWizz application, in the next step, you transfer the image from the .stw file to your stick.
Preparing individual USB recovery system
Check whether the recovery system in the ELIAS program directory corresponds to the eLux version (see BaseOS package) in your ELIAS container.

If required, download the appropriate recovery system from our portal and import it into your ELIAS container, see Importing software packages

In the image library, export your image with the Stickwizz option, see Exporting an image.

Download the .stw file and save it on a Windows system.
Your customized recovery system is now ready to be written to a stick.
For further information, see Recovery via USB and Writing an image to USB (with StickWizz) in the Recovery short guide.